Welcome to the School of Mission
The aim of the School of Mission is to see every Christian in the UK comfortable and confident in sharing their faith faith in Christ Jesus through deed and words with wisdom, sensitivity and under the guidance and leadership of the Holy Spirit.
We are not about running talking shops for religious professionals, but want to explore how we can encourage ordinary Christians to explore more of what it means for each of us to participate in the mission of God in our locality and discover Gods call on our lives.
We believe that if you love Jesus and have a pulse then God is calling you to partner with him in transforming the world!
Vision
Here is a video about the vision of the School of Mission.
Team
Andy Mason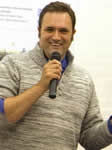 In 2017 Andy moved back to Poole in Dorset. Prior to that Andy was a Pioneer Minister in Kingswood and Hanham (Bristol) and was involved in setting up Street Pastors and planted a Church by the edge of a skate park (despite being totally unable to skate!) Before coming to Kingswood he was a curate in Salisbury, trained at St. John's Nottingham, and was a Youth/Schools worker in Poole, York and Wakefield. He loves films, books, beer and hanging out with his family.
Jackie Leswell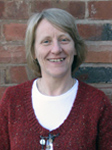 Jackie is a former Salvation Army Officer in Poole, also has been involved with the Freedom in Christ Course and with the work of Redeeming Our Communities. She chaired Churches Together in Poole for a number of years and worked with Faithworks Wessex, she started Town Pastors in Poole and was part of the Vineyard Church in Bournemouth, she has now moved back to Norfolk where she is beginning to get involved.
Mark Rich
Mark has lived in Bristol nearly all of his life, he is part of the leadership team of the River of Life Church in Hartcliffe, he was also heavily involved with the planting of Kingswood Street Pastors and even on one occasion had to take the Archbishop of Canterbury under his wing. He is a very gifted speaker and the least boring accountant you are ever likely to meet!
AJ Fewtrell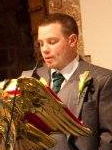 AJ is a Youth and Community Worker for St. Andrew's Church in Bournemouth, he has also worked for the youth service and studied at Moorlands Bible College, before that he has worked at Robert Dyas and has also done some work as a painter and decorator. He is never afraid to ask difficult questions especially over a pint or a decent fry up.
Andy Evers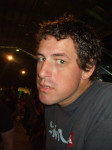 Andy Evers is a youth and children's pastor at a Baptist Church in Dronfield which is in Derbyshire. He also pioneered a charity that brings churches together to bless his local area with practical support and care. Before working in Dronfield Andy used to be a primary school teacher and for a while a deputy head. He and Andy Mason and he were originally at school together in Eastbourne. Andy is married to Becca who is a worship leader, and they have two sons. Andy supports spurs and has unpredictable hair!
Adam Pullen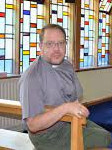 Adam Pullen comes from Ireland. For a while he was in Wales as a biochemist before training at St. John's College Nottingham to become a Vicar, before returning back to Ireland to lead a small group of rural churches, he also served as chair of the board of mission for the Church in Ireland for a number of years. Adam's is happiest when he is in the kitchen cooking or with his cats Graham and Henry or with his dog Rocco.
Ben Bissett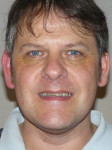 Ben Bissett is married to Abby and has four kids, he loves to skateboard, mountain bike and surf (but not at the same time). Another of Ben's hobbies is making banjos and for a while had a tardis in his back garden. He is an active member of All Souls' Eastbourne and has been involved in all sorts of ministry things over the years. Ben is a graphic designer who works in IT. Although mainly busy with work, church and kids one of Ben's great love is the theatre particularly singing and dancing.